Are you thinking about getting a new stove this year? Read on to discover a few of our most popular stoves this season, and get a taste of what's in store.
A compact stove ideal for smaller rooms
This popular wood burning stove is the smallest in the Ellesmere range. It offers a respectable 4.5kW output and its size makes it ideal for smaller rooms. The appliance is constructed of cast iron and steel which offers excellent heat retention. Designed to meet the standards set for 2022, the EC4 is ECO Design ready and DEFRA approved for smoke control zones. Not only does this stove offer low emissions and clean burning, but also stylish looks suitable for both contemporary and traditional settings.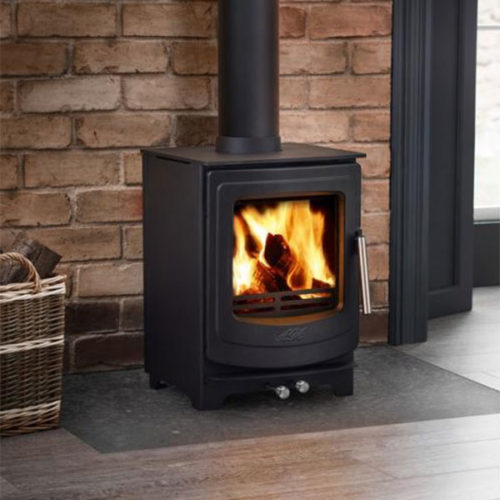 An attractive stove with high environmental performance.
This modern wood burning stove is EcoDesign 2022 ready and has Defra approval for wood to be burnt in smoke control areas. What's more, the Charnwood Aire 5 Woodburning Stove boasts one of the largest viewing glasses of the Charnwood range. This means you get the best possible view of the flickering flames. The Aire 5 comes in a variety of coloured finishes and has a handy log stand below. A rear heat shield, flue adaptor and boiler complete the options.
Not only is this attractive stove good news for the environment, but for you too!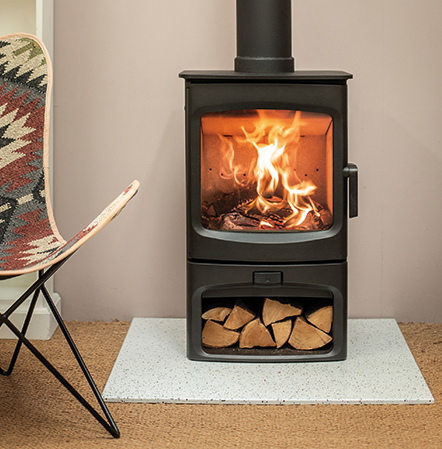 The warmth of a stove with that little bit extra!
If you're looking for the charm and heat of a compact wood burner but are tempted by the idea of cooking capabilities, the Esse Bakeheart could be the perfect choice for you.
This A+ energy rated wood burner has a 4 zone cast iron hotplate which allows you to cook a stew, and an oven that means you can cook a pizza, steak or jacket potato! Perfect for an outdoor living space or that feeling of self sufficiency in your home.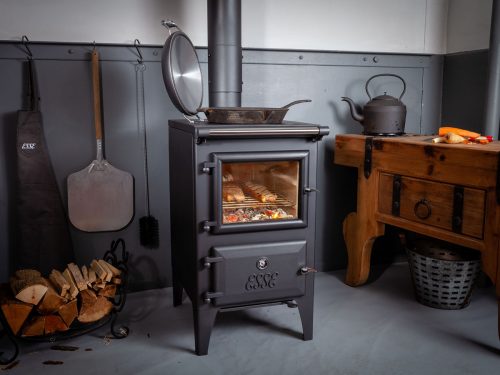 Contemporary stove with an amazing view of the flames
The
Parkray Aspect 5 ECO
is part of the contemporary range of stoves from Parkray offering clean lines and simple controls. The Aspect 5 is ideal for small to medium sized rooms and generates a flexible output of between 4-7KW of heat. This popular stove benefits from a large window offering excellent visual enjoyment of the flames.
A Parkray stove achieves very high environmental standards. They produce up to 7 times less smoke than required under the current Eco Design 2022 standards. This wood burning model is Defra approved for smoke control areas.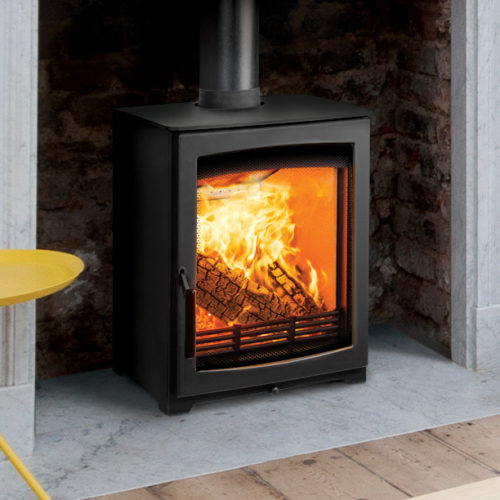 Modern elegance for medium to large rooms
The AGA Hadley wood burning stove is contemporary in its styling. With clean lines it will appeal to those looking for an honest and simplified design.  
It has an impressive height and large beautiful flame picture window. The integrated log store is both practical and good looking. The Hadley has been designed as a Smoke Exempt stove.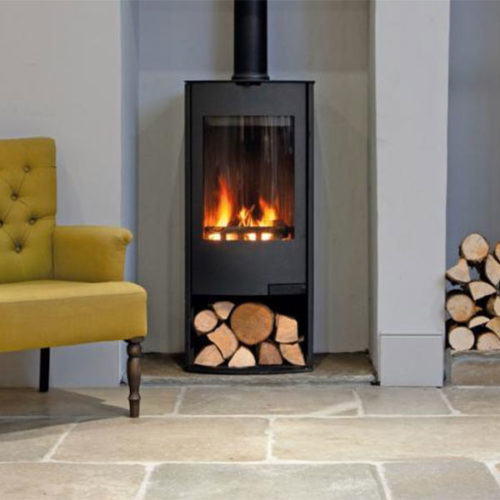 This is just a small selection of the stoves which are popular this season. If you're looking for a new stove, it's easy to feel overwhelmed by the amount of choice available today! Rather than just browsing online, we recommend you come and visit our destination showroom in Winkleigh. We have over 60 wood burning, multi fuel, gas and electric stoves, many of which are on display in room settings so you can really see and experience how these products will work in your own home.
A new stove or range cooker will be at the very heart of your home for many years to come, so exploring these products at your leisure, guided by our friendly and experienced team will help you arrive at a fully informed decision to the appliance that will best suit your needs and expectations.
We can also talk you through our comprehensive stove installation service and excellent after sales support so you can buy in complete confidence.
If you are interested in visiting us to view our range of stoves and fireplaces, we advise booking an appointment here.