Description
The Charnwood Aire 5 is a medium sized, highly efficient wood burning stove that will perfectly suit a variety of situations.
Many homes owners love the glow and warmth of a wood burning stove but want those benefits in a compact appliance. The Charnwood Aire 5 delivers just that. Its relatively small size means it fits into a wide range of interior situations. It works beautifully in a traditional fireplace and equally well as a freestanding stove. Charnwood have designed this wood burner to feature the biggest view of the fire as possible. Added to this, it burns extremely cleanly for a crystal clear view of the glass. The stove is remarkably controllable too and delivers a comfortable 2-5KW output of heat to your room.
As with all Charnwood stoves the quality of build is clear to see and feel. Manufactured in the UK, the Aire 5 is constructed of cast iron and plate steel. It incorporates Charnwood's unique BLU burning technology. Not only a vast improvement on the new 2022 Ecodesign standards, BLU also meets with Defra exemption limits; allowing wood to be burnt cleanly and safely in smoke control areas.
The stove has been designed for a simple operation too. The stay cool handle is reassuring solid and robust and latches easily. There is one simple control for adjusting the air supply into the stove so firing and managing the heat output is hassle free.
The stove is available with and without a log store. It's also comes in a range of enticing colours to match your interior perfectly.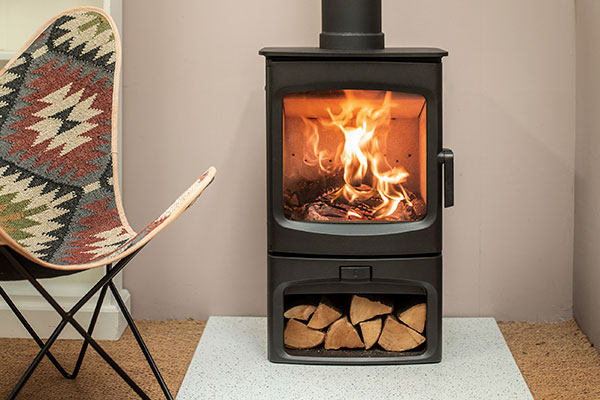 Key Features
SIA Eco Design Ready
Cleanburn Airwash Technology
Quattroflow Air Management System
Blu Technology
Cool-to-touch for safe and easy reloading
Drop down throat plate enabling the chimney to be swept through the stove
DEFRA exempt for burning wood in smoke control areas
Exceeds new Eco Design standards
Meets the UK building requirements for installation with a 12mm non-combustible hearth
Sliding firebed for clean and easy ash removal
Customisation Options
Flue boiler
Vertical rear flue adaptor
Low or Store stand
Choice of eight colours