Did you know that Charnwood Stoves are designed and made in Great Britain? Rangemoors are proud to be official stockists of Charnwood Stoves and in this blog we thought we'd share the ethos of the company and three of our most popular Charnwood stoves.
Charnwood are a family company that have been making stoves on the Isle of Wight since 1972. Their ethos includes buying, where possible, from local UK based suppliers which ensures stability of supply especially during these uncertain times. Each stove is finished by hand and rigorously tested with every detail considered from concept to completion.
They're a very popular brand at Rangemoors and come in a beautiful range of finished colours. Here are three of our most sought after Charnwood stoves this season:
Charnwood Aire 5 Woodburning Stove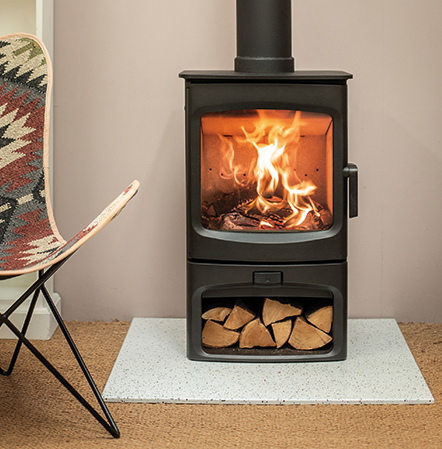 The Charnwood Aire 5 Woodburning Stove boasts one of the largest viewing glasses of the Charnwood range. This means you get the best possible view of the flickering flames. As you would expect from a modern stove, the Aire is EcoDesign 2022 ready and has Defra approval for wood to be burnt in smoke control areas.
The Aire 5 comes in a variety of coloured finishes and a low or log stand. A rear heat shield, flue adaptor and boiler complete the options.
To find out more about the Charnwood Aire 5 visit our website.
Charnwood C-Four Woodburning and Multi Fuel Stove
The Charnwood C-Series stoves deliver an exceptionally clean burn with outstanding efficiency and can be fitted with a drop-in multifuel grate for burning solid fuel and an optional store stand to raise the stove off the ground.
Featuring a large picture window the Charnwood C-Four is the smallest model in the C-Series delivering a heat output to the room of between 2 to 5.5KW. The stove is steel plate lined and can take a log length of up to 255mm (10″). This stove meets the DEFRA requirements for smoke control exemption; allowing wood to be burnt in smoke control areas.
To find out more about the C-Four or to buy online visit our website.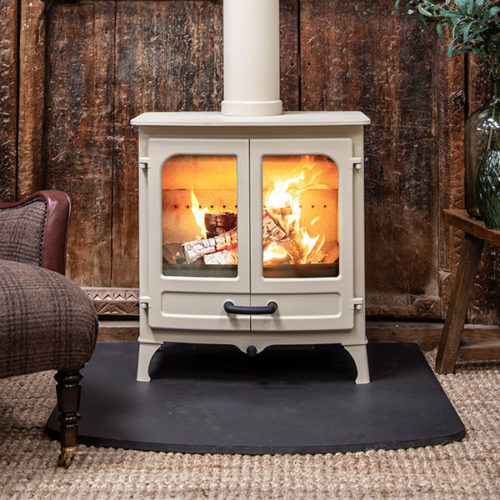 The attractive All New Charnwood Island II is the medium sized stove in the Charnwood Island collection.
With a large view of the fire it still retains its clean-line proportions while producing a rated 8kW of heat to the room. Not only does this stove meet strict Ecodesign 2022 and Defra limits, it goes over and above. This stove is already smashing targets not due to come into force until 2022.
To find out more about theAll New Charnwood Island II or to buy online visit our website.
Charnwood stoves are built to last and they still hold spare parts for nearly all the appliances they have made over the years should you ever need to replace a component. Even forty five years after building their first stove there are still many of these original models giving good service as they continue to heat peoples' homes. We believe that this is how it should be; an investment in a Charnwood is more than just a short term relationship.
To view our complete range of Charnwood stoves visit the Rangemoors website.