Are you thinking about getting a new stove this winter? Read on to discover a few of our most popular fireplaces and stoves this season, and get a taste of what's in store.
A small but perfectly formed traditional stove.
The quintessentially charming Morso Squirrel multifuel stove is ideally suited for small and medium sized rooms. This classic stove, with its characteristic squirrel design, makes a lovely addition to any home, or even narrowboat, garden room or workshop.
With excellent build quality this top of the range cast iron stove has a very high heat output for its size.
Once installed, the Squirrel will soon become the warm beating heart of any home.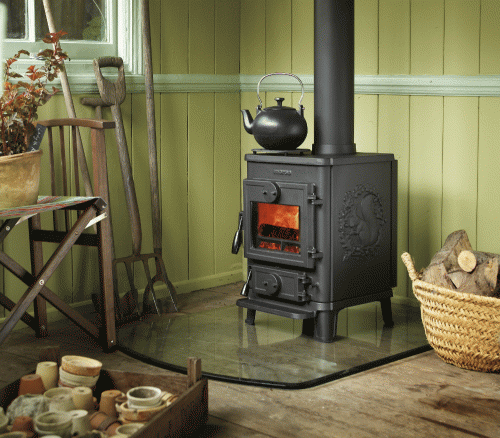 An attractive stove with high environmental performance.
This modern stove is EcoDesign 2022 ready and has Defra approval for wood to be burnt in smoke control areas. What's more, the Charnwood Aire 5 Woodburning Stove boasts one of the largest viewing glasses of the Charnwood range. This means you get the best possible view of the flickering flames. The Aire 5 comes in a variety of coloured finishes and has a handy log stand below. A rear heat shield, flue adaptor and boiler complete the options.
Not only is this attractive stove good news for the environment, but for you too!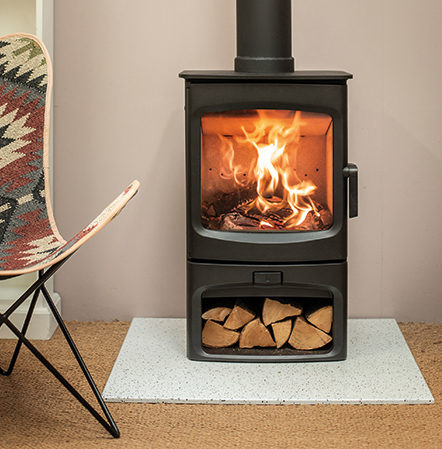 A dramatic statement in any living space.
The groundbreaking Gyrofocus from Focus Fires was designed in 1968 as the first suspended 360-degree rotating fireplace. Not only does this wood burning stove have style, its heat efficiency and relative ease of install make it a popular choice among prospective customers.
The Gyrofocus is perfect for people who have a bit more space and want a modern, efficient, high performance fireplace which will really make an impact in their home.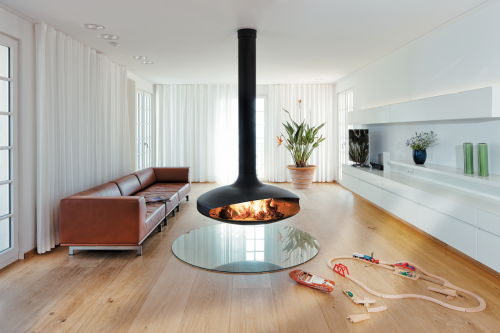 The warmth of a stove with that little bit extra!
If you're looking for the charm and heat of a compact wood burner but are tempted by the idea of cooking capabilities, the Esse Bakeheart could be the perfect choice for you.
This A+ energy rated wood burner has a 4 zone cast iron hotplate which allows you to cook a stew, and an oven that means you can cook a pizza, steak or jacket potato! Perfect for an outdoor living space or that feeling of self sufficiency in your home.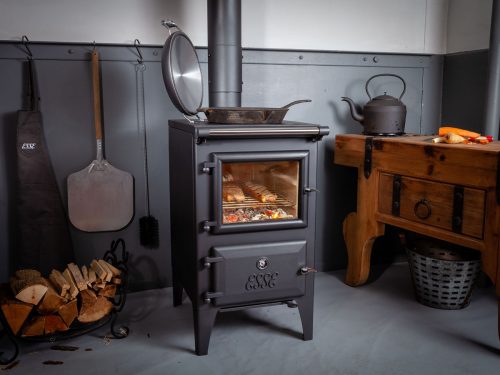 An easy to install electric stove.
If you don't have a chimney or want to locate a stove in a space where it would be difficult to install a flue, then the electric version of the Dovre 280 stove could be the answer.
Once plugged in to a normal 13 amp socket, you simply use the remote control to turn it on or off, adjust the heat or to select one of the three flame brightness levels using the unique VeriFlame (TM) technology. The additional option of a subtle blue flame effect on the highest level makes the stove's 'log' fire one of the most authentic available.
For real fire ambience at the press of a button the Dovre 280 Electric is a great choice.
It's easy to feel overwhelmed by the amount of choice available today, so rather than just browsing online, we recommend you come and visit our destination showroom in Winkleigh. We have over 60 wood burning, multi fuel, gas and electric stoves, many of which are on display in room settings so you can really see, feel and experience how these products will work in your own home.
A new stove or range cooker will be at the very heart of your home for many years to come, so exploring these products at your leisure, guided by our friendly and experienced team will help you arrive at a fully informed decision to the appliance that will best suit your needs and expectations.
We can also talk you through our comprehensive stove installation service and excellent after sales support so you can buy in complete confidence.
If you are interested in the Focus range of fires, and you would like to visit us, we would kindly request that you make an appointment to ensure a Focus trained staff member is available.