If you love al fresco cooking, dining and living and don't want the unpredictable British summer to spoil your plans, you'll love Morsø's three wonderful garden enclosures. Beautifully crafted from ethically sourced Scandinavian Redwood and Canadian Cedar, the Morsø range of outdoor shelters provide not just a beautiful garden feature, but a versatile outdoor cooking and entertaining area to be enjoyed all year round, whatever the weather. Read on to find out more about the innovative Morsø Hut, Cabin and Lodge.
Enjoy versatile outdoor cooking with the Morsø Hut
If you love outdoor cooking you'll adore the Morsø Hut. The smallest of the three enclosures, the Morsø Forno Hut is ideal for anyone who loves to prepare and cook food outdoors. The focal point is the Morsø Forno Oven which the hut is built around, incorporating an insulated flue system to accommodate the chimney. The Forno Table and oven fit between two cedar shelves which add extra cooking preparation space, whilst guests can sit watching the action on cushioned bar stools with shelving – perfect for serving food and drinks.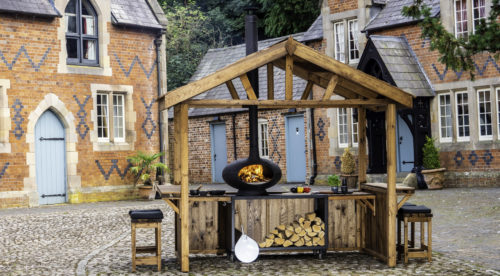 This attractive Morsø Hut comes with the Bespoke Morsø Forno Package, a specially curated package which brings together the key accessories that will make using the Morsø Forno Oven a joy. This package includes the Forno oven, Forno flue system, large steel table, Forno door, Tuscan Grill, Ash scraper, Pizza peel, fire tongs – all designed and developed by Morsø to work exclusively with the Forno Oven.
Create delicious food – from roasting, grilling and baking – al fresco style, whilst enjoying shelter from whatever the weather has in store.
The Morsø Hut is available to view at our Rangemoors showroom in North Devon.
Space for guests with the Morsø Cabin
If you want a bit more space for friends and family to sit and enjoy the taste of outdoor living you'll love the Morsø Forno Cabin. The Cabin incorporates two cooking preparation tables, internal bench seats and dining tables and also benefits from external cushioned bar seats and shelving for added convenience. The Cabin includes blinds along two sides and the insulated flue system as well as the Bespoke Morsø Forno Package.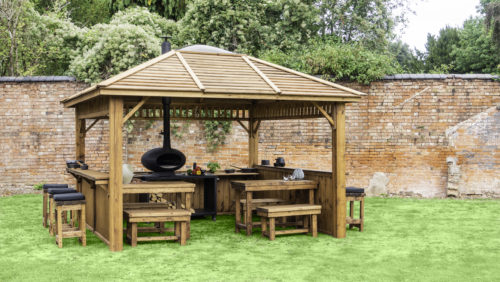 Relax in Style with the Morsø Forno Lodge
If you're looking for a space which feels more like a cosy living room – transported to the great outdoors, the Forno Lodge is a perfect choice. This unique outdoor living space features a cushioned lounge area to relax in and includes a Morsø Stove from the striking 4100 Series. There's a decked flooring area, roll down blinds on all sides and an integrated insulated flue system for the appliance of your choice. The roof is constructed using cedar shingle tiles and cedar balustrades add a sense of style. With a coffee table, wine fridge and all the comfort you could wish for in an outdoor space, you're ready to enjoy long summer days al fresco style.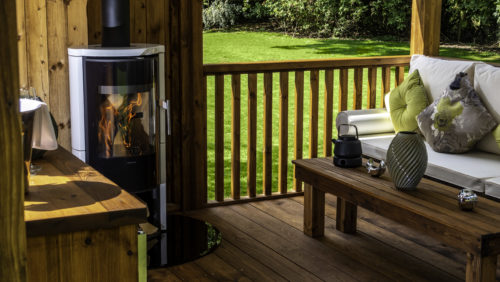 All three enclosures are delivered and constructed by the Morsø team which is included in the price (does not include ground preparation or electrical supply).
Find out more about this beautiful range by visiting our showroom at Winkleigh where you can view the Morsø Hut and talk to our knowledgeable team about this remarkable range of outdoor enclosures. You can also view the range online on our website.