If you're looking for a new stove this winter we recommend exploring the AGA range. Their wood burning, multi-fuel, gas and electric stoves combine all the experience, heritage and tradition of the AGA brand in addition to the very latest technology.
Featured below are three of our most popular AGA stove ranges, to give you a feel for what's available this season.
The Ellesmere – Attractive, Versatile and Practical
The Ellesmere is part of the latest range of fires and stoves from AGA, blending contemporary and traditional styles seamlessly. The Ellesmere range offers options for a variety of home settings and fuel preferences; available as a multifuel, wood fuel, gas or electric model. Featuring steel bodies and cast iron doors the range offers quality as well as versatility. If you love relaxing in front of flickering flames, the Ellesmere features a large fire window giving you an excellent view of the fire.
Featured below is the AGA Ellesmere C4 woodburning stove, the smallest in the Ellesmere range. It's A* rated and offers a respectable 4.5kW output.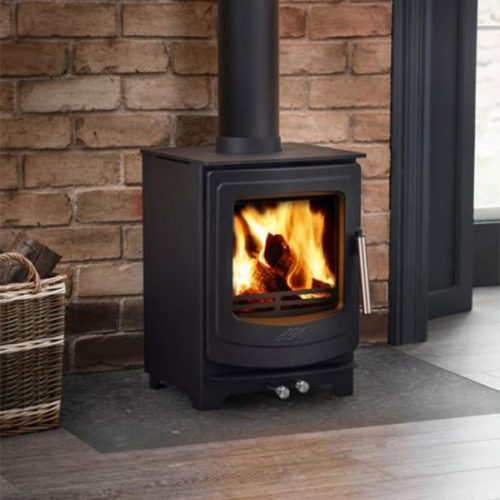 The Ludlow – Classic Simplicity
The Ludlow range offers understated style and exquisite detailing. The classic feel of this range means it will fit many interior settings, adding effortless warmth and atmosphere to your home. This versatile range is available as a multifuel, wood fuel, gas or electric model. With steel bodies and cast iron doors, the Ludlow range exudes all the quality feel you'd expect from AGA.
Featured below is the AGA Ludlow EC5W Electric stove, also available as a Natural Gas or Multi Fuel stove. This beautifully designed electric stove will add a gentle warmth to your room. Enjoy a 1.9KW output effortlessly with its easy to use controls. The extra width of this fireplace creates a larger flame window, making it a captivating centre point to any room.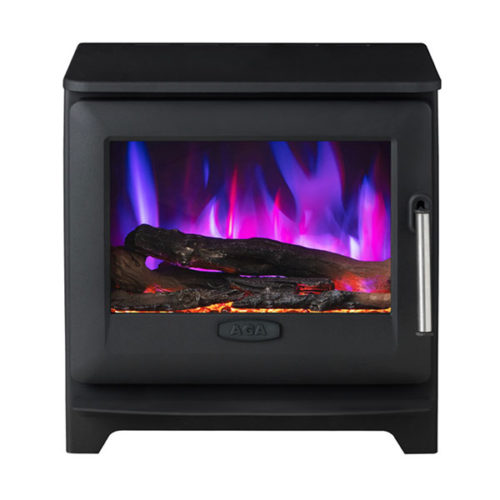 The Dorrington – Elegant Efficiency
The AGA Dorrington has one of the largest picture flame windows in the AGA Range of wood burning stoves. This impressive stove features a curved front window combined with two curved side glass panels enabling a 180 degree view of the flames. Its tall and elegant design will add a captivating feature to any room.
Whilst contemporary in styling, this stove will feel at home in a variety of interiors. With a maximum output of 7KW it will bring warmth and atmosphere to medium sized rooms.
The highly efficient AGA Dorrington has been designed for Smoke Exempt areas and is also 2022 Eco Compliant.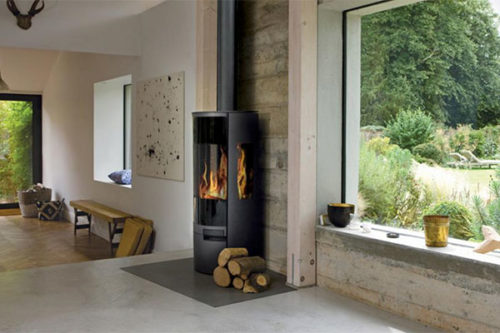 This is just a small selection of the AGA stoves available from Rangemoors. Browse the full range on our website or visit our Winkleigh showroom to really experience the benefits of these appliances. A visit to our destination showroom allows you to see an AGA stove, fired-up and in a room setting. You can also talk to our knowledgeable team about which appliance would suit you. Contact us for information and details of current display models in our Devon showroom.