We're excited to share with you a brand new colour developed by Rayburn and AGA. Olivine is the new colour way for their range cookers. Read on to find out more and to take advantage of our Olivine special offer.
The new colour trend for 2022
Over the past year many of us have embraced nature and the great outdoors more than ever before, so perhaps it's unsurprising that we want to bring that sense of calm and balance into our homes by choosing to use green in our décor schemes. Green is high on the trends agenda, from soft sage hues through to verdant forest shades, and among the most popular colours is olive.
Choose Olivine, get versatility
Olivine is truly versatile, meaning it will go with a whole host of shades, including pinks and bright reds, natural wood (from the lightest of oak to the darkest mahogany) as well as other greens and neutral shades such as creams, whites and greys.
While olive is one of the top interiors colours for 2022, it is also timeless, meaning a cooker installed today in this shade will look fantastic for years to come.
Olivine Availability
Available on all Rayburn models, this new Olivine shade will add a splash of gorgeous
colour wherever it's used. Find out more about Rayburn range cookers here.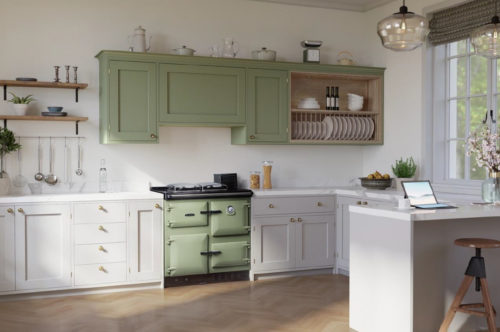 Limited time Special Offer
We're celebrating Olivine with a fantastic special offer. Choose this new colour and pay the same price as a standard colour for a limited period of time, saving £425.00! Olivine products are available to order from Rangemoors, so make a great saving by ordering soon.
Read about our range cookers here, or visit our showroom in Winkleigh, Devon to view working Rayburn and AGA cookers in a kitchen environment.