Description
Charnwood Country 4 Wood Burning and Multi Fuel Stove.
The Charnwood Country 4 is the smallest model in the Charnwood Country wood & multi fuel room heating collection, yet still incorporates the ingenious features of the larger stoves. It is a neat, sturdy – yet graceful little fire and with a rated heat output of 4.8Kw can be installed, in certain situations, without the need for external air. The single door gives a complete view of the fire and features a spinning primary air wheel for optimum control over the burning rate. In spite of its size, the country 4 takes a decent sized log length of 330mm (13″) making it a very popular choice in the small stove market.
This stove may burn wood logs in smoke control areas if fitted with a smoke reduction kit.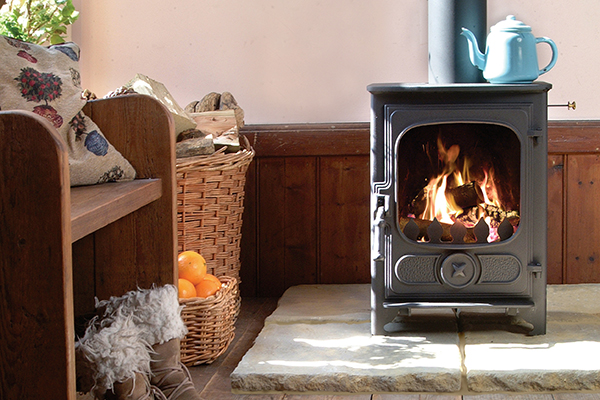 Key Features
Fuel: Wood or Multi-fuel (See Optional Extras)
Output: Nominal 4.8Kw / Max 5.5Kw
Energy Rating: A
2022 SIA Eco Design
BLU Technology
Construction: Steel Body, Cast Iron Doors
Airwash: Yes
Approved for Smoke-Free Zones: Yes (See Optional Extras)
Efficiency: 76.8%
Max Log Length: 330mm (13″)
Optional Extras
Reciprocating Grate
Various Colour Options
Vertical Rear Flue Adaptor
Heat Shield
Riddling Grate & Ash Tray
Back boiler
Flue Boiler
Front Shelf
Decorative Front Fence
Smoke Reduction Kit for Smoke Free Zones