If you're looking for a range cooker for modern times the Mercury Range Cooker could be the perfect answer. This sleek contemporary range cooker will not only bring a bold statement to any kitchen, but will inspire and fulfil any culinary connoisseur. Mercury, the epitome of innovation, style and professionalism, is part of the AGA Rangemaster group, leading UK manufacturers of Range Cookers.
Here are some of the features which make a Mercury Range Cooker the perfect choice for a contemporary kitchen.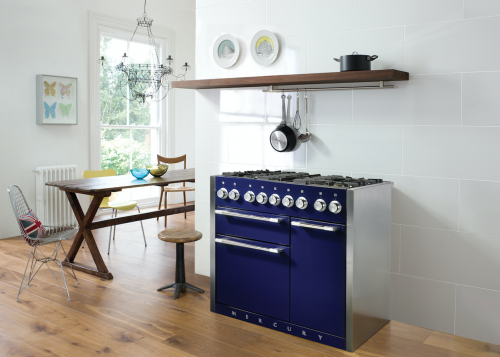 Fuel Choice
Mercury Range Cookers feature powerful electric ovens for flexibility & even heat distribution. There is then the choice of a gas hob or sleek induction top. Boasting a wealth of safety features, Mercury induction hobs harness the latest technology for the most eco-friendly hob-top cooking possible. Both gas and induction hobs offer ultimate control and supreme performance, allowing you to enjoy all your favourite culinary dishes again and again. You can also choose from a wide variety of hob and oven configurations.
Hi-Fi Style Controls
Heat control is delivered in style, with nine eye catching Mercury designed hi-fi style controls. Each one offers precise cooking control from the hob burners to ovens and grill.
Innovative Design Features
Tough and durable, yet completely flexible, Mercury ovens are equipped with heavy-duty stainless steel shelves, including a telescopic shelf, runners and wire work. The separate robust dual element grill has been beautifully styled and designed to offer adjustable heights with an extendable gliding tray.
Design Detail
Each and every Mercury range cooker comes with a branded plinth as a statement of quality and high design.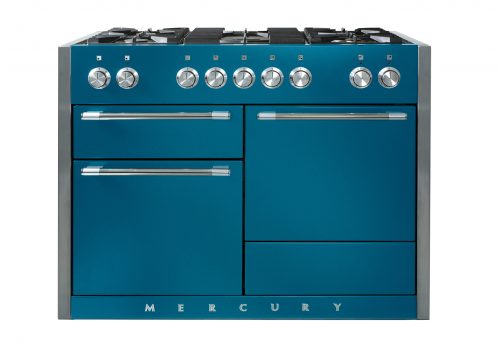 The Perfect Choice
As well as fuel choice there is also a choice of three sizes (1000, 1082, 1200), seven vibrant colours and a complimentary range of splash backs and hoods to match.
As you can see, Mercury range cookers are the perfect solution for the contemporary kitchen. Sleek design is combined with uncompromising quality in both gas and induction models. Beautifully made, stylish and robust the Mercury range makes a real statement in any kitchen.
To see and experience a live and working Mercury Range-Cooker visit our purpose built showroom in Winkleigh, Devon. In the meantime, view a selection of Mercury Cookers here.