Description
The Rocal Mini Drop Wood Burning Stove.
The Rocal Mini Drop wood-burning stove attaches directly to a wall. Its unique design is contemporary and curvacious, producing an impressive heat output. The Mini Drop is smaller than the full-sized Drop and is capable of 9.5KW output and you can expect an efficiency of 85% from this fireplace.
The oval shape blends into a room beautifully, offering an elegant centre point to any room. The integrated hood is not just a design feature. It also acts as a radiator to radiate heat to your room. The elliptical portal window frames the fire, giving a fabulous view of the flames. A discreet lever handle to the side complements the design. Inside is an ash pan for easy cleaning and removing burnt fuel. The appliance can take logs up to 300mm in length.
Made from heavy gauge steel – which heats up quickly – the Rocal Drop has a black satin coating. As you would expect from Rocal, the Drop is highly efficient. It uses three-burn technology, ensuring excellent environmental credentials. This system also helps to maintain a clean glass window. This stove has dual air controls for highly controlled adjustments. An External Air option draws air from outside rather than taking oxygen from the room.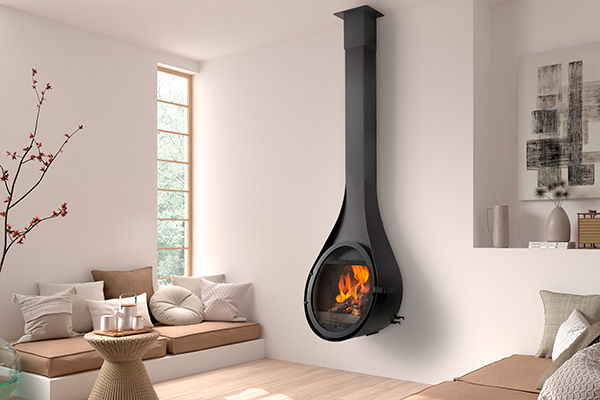 Rocal has been designing and manufacturing exceptional fireplaces for over 30 years. Based near Barcelona in Spain, they use the latest technology and artisan hand finishing to create a fabulous range of home heating appliances.
They aim to evolve their stoves' aesthetic design while constantly improving wood-burning efficiency and emissions, which also means considerable fuel savings for customers.
Rocal Fireplaces are exceptionally well built, ensuring longevity in your home. Additionally, they comply with the highest standards of safety and legislation.