Description
The Rocal Angle Wood Burning Fireplace.
The Rocal Angle wood-burning fireplace is a wall-mounted appliance that oozes contemporary warmth. It can be positioned either in the corner of a room or against a single wall with equally effective results.
Constructed from steel and enjoying a large viewing window, this stove generates a maximum output of over 9KW, so it's ideal for larger rooms. The Rocal Angle also incorporates three-burn technology, ensuring excellent environmental credentials – achieving an 81.3% nominal efficiency rating. This appliance utilises an external air system for superior burning.
It has an excellent air wash system which helps keep the glass clean. There's also a built-in ash pan for the removal of burnt fuel.
The handle is solid and opens and closes the fireplace with ease.
Furthermore, the Rocal Angle is also available as a freely 90-degree rotating appliance operated via remote control.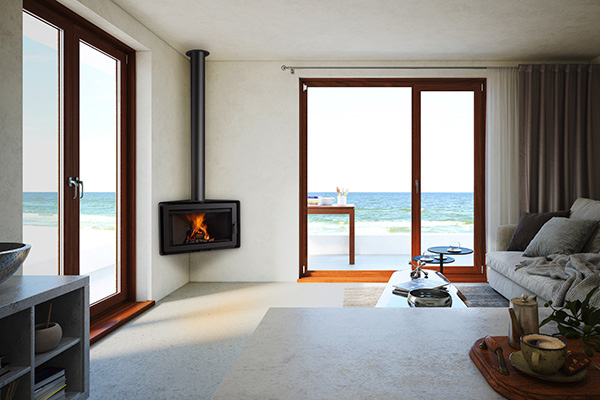 Rocal has been designing and manufacturing exceptional fireplaces for over 30 years. Based near Barcelona in Spain, they use the latest technology and artisan hand finishing to create a fabulous range of home heating appliances.
They aim to evolve their stoves' aesthetic design while constantly improving wood-burning efficiency and emissions, which also means considerable fuel savings for customers.
Rocal Fireplaces are exceptionally well built, ensuring longevity in your home. Additionally, they comply with the highest standards of safety and legislation.