Description
The Rocal Habit 73TC+T Wood Burning Stove.
The Rocal Habit 73TC+T wood-burning stove shares the impressive design of the Habit 100DC+T but is a three-sided fireplace. These three sides give a 180-degree view of the firebox. It works beautifully as a stand-alone centrepiece in a hearth or against a non-combustible wall setting.
Housed within its magnificent exterior is a combustion chamber with remarkable output – this stove can generate 13KW of heat – making it perfect for medium to large rooms. Additionally, it has built-in convection fans that radiate the heat into your living space for far quicker warm-up times than a conventional stove can achieve.
As you would expect from Rocal, the Habit 73TC+T is highly efficient. It uses three-burn technology, ensuring excellent environmental credentials – achieving an 85.1% nominal efficiency rating. This technology also keeps the glass clean for a beautiful fire view.
With a large front glass area and side-glazed panels, there's a lot to enjoy with this fireplace. When fueled up, the flame picture is magnificent. It will take a 400mm log length. The door is opened using a lever handle which sits discreetly at the bottom of the unit – between the body and the door. A simple slider at the top of the door easily controls the stove.
This Rocal Habit 70TC+T will suit a traditional hearth setting but also looks impressive mounted on a Rocal bench. There's a log store base option or wall brackets for mounting next to a non-combustible wall.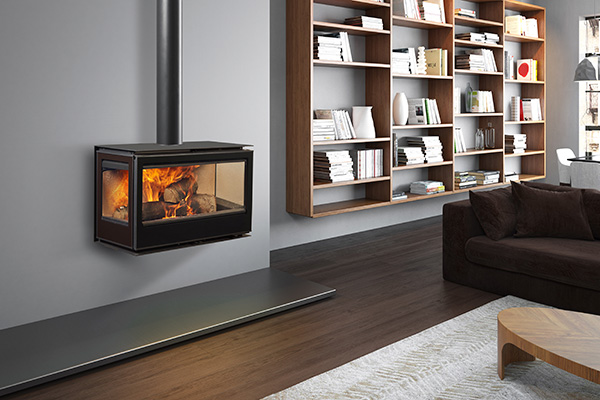 Rocal has been designing and manufacturing exceptional fireplaces for over 30 years. Based near Barcelona in Spain, they use the latest technology and artisan hand finishing to create a fabulous range of home heating appliances.
They aim to evolve their stoves' aesthetic design while constantly improving wood-burning efficiency and emissions, which also means considerable fuel savings for customers.
Rocal Fireplaces are exceptionally well built, ensuring longevity in your home. Additionally, they comply with the highest standards of safety and legislation.