Description
The Rayburn Heatranger. Highly efficient combined heating and cooking that creates mouth-watering dishes, a wonderfully warm home and piping hot water, just when you need it.
---
Designed to fit modern kitchens

Oil and HVO

Highly controllable

2 ovens

Large boiling and simmering hotplate

Hot water and central heating boiler options

Available in 15 exciting colours
---
The Rayburn Heatranger is the all new range cooker from Rayburn. It combines the traditional good looks of the classic Rayburn with a new fuel system. It can run on oil but will also run on HVO. HVO is 95% Hydrotreated Vegetable Oil which is 100% renewable. A cleaner and cost effective alternative to oil.
It's also has a
highly
efficient boiler that will heat your home and provide gallons of hot water. There are three models to choose from. The 60K, 80K and 100K. Each has a different boiler size depending on how many radiators you'll need to heat.
The design of the Rayburn Heatranger also enjoys many improvements. Compared to the previous ranges you'll notice a cleaner symmetry. The oven and control doors line up giving the front face of this range a pleasing balance.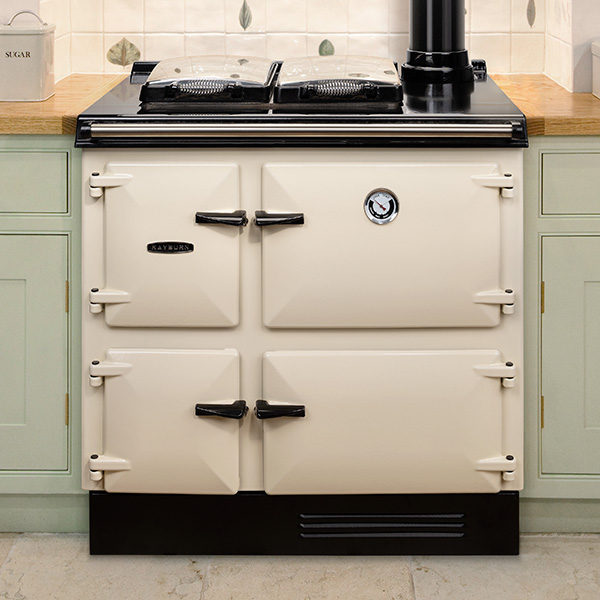 Exceptional and reliable Cooking.
Rayburn's have always enjoyed a special place in the heart of the home for lovers of cooking. As you would expect from a Rayburn, the Heatranger has two large capacity cast-iron ovens. These will roast, bake and simmer using radiant heat to make the most of your food. Your dishes will stay moist and succulent. There is also a lower simmering oven for creating superlative slow cooks.
The cast iron hob will accommodate a host of pots and pans. You can simmer and rapid boil with ease using the graduated heat surface. When not in use, the hob has two stainless steel lids.

The ultimate in control.
At the heart of the Heatranger is a easy to use control panel. You can manage the heat of the cooker, ovens and hobs with a touch of a button. Added to this a fully programmable and integral timer allows you to control your heating.
Finishing Touches.
Rayburn Heatrangers feature gleaming polished stainless steel hotplate lids, handles and handrails. You can choose from sixteen sumptuous, high gloss vitreous enamel colours. This ensures a wide range of options to complement or contrast your kitchen interior.
For those looking for an all electric Rayburn model check out Rayburn Ranger.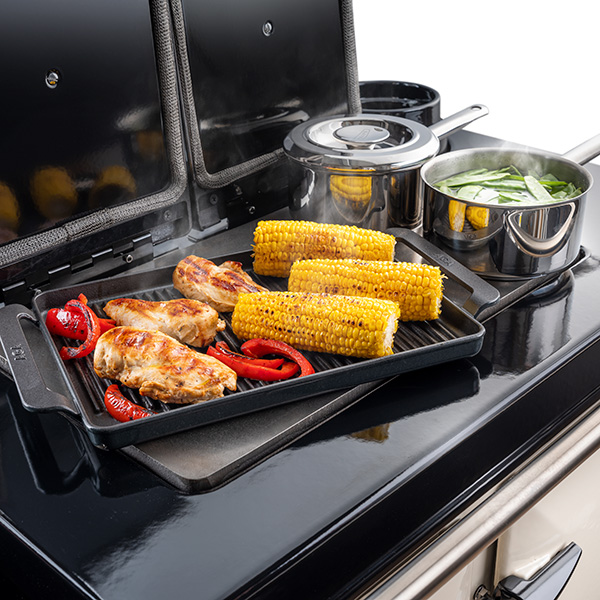 Need to know more?
Call us or visit our showroom to see working models of the Rayburn collection.
You can also download the Rayburn Brochure here.