Description
The Rayburn Ranger. A brand new classic.
---
Designed to fit modern kitchens

Fully Electric

Highly controllable

3 ovens

Hotplate and Induction

Available in 8 exciting colours
---
The new Rayburn Ranger is the latest incarnation of the much loved Rayburn. This electric range cooker has excellent cooking capabilities and eye catching styling. And, of course, all the classic functionality we expect from a Rayburn!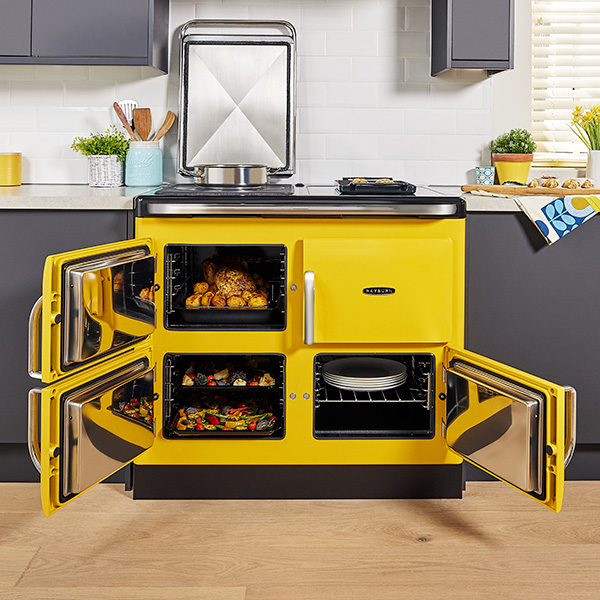 The first all electric Rayburn.
For many years the classic Rayburn has been at the heart of many homes. This new fully-electric Rayburn Ranger offers flexible and energy-efficient cooking. With beautiful retro styling it's also available in eight scrumptious colours. From neutral tones to strong hues like Tomato, Marmalade and Sunshine.
Just
like all Rayburn's, the Ranger's ovens use radiant heat to cook. 
There are two large capacity ovens and a warming oven. All three ovens are
independently
controlled.
It also benefits from a powerful grill and a cast iron hotplate. The hotplate can be set to boiling or simmering mode. Added to this, a two-zone induction hob gives fast and efficient control.

The detail.
Oven ready!
All three ovens have cast-iron doors with magnetic catches for smooth, ergonomic closure. They have stainless steel door liners for easy cleaning by hand or in a dishwasher.
The two roasting, baking and simmering ovens heat up in
just
two hours. For those who enjoy slow cooking the flexible E-setting is available for both of these ovens.
The classic 'warming oven' is stand alone and you can choose the temperature you want. It's perfect for warming crockery and keeping meals at temperature before serving.
A powerful 900W Grill.
Within the roasting oven is a state-of-the-art 900W grill. Choose from four grilling positions. The higher positions for fast cooking and the lower positions for a gentle grill.
Updated Hob.
The Rayburn Ranger features a large cast iron hotplate which can hold several pans. Temperature is simple to control – from a gentle simmer to rapid boil.  The hotplate benefits from a cast iron surround. This makes it ideal for resting pans. It's also coated with AltrashellTM which makes it easy to clean.
Induction Control.
The two-zone induction hob enjoys many benefits. There's a bridging function for use with a griddle. Boil dry detection to help protect your favourite pans. A timer, child lock and pause button are included. The 'power boost' function provides ten minutes of maximum power for high heat searing.
Simple to use and no servicing.
At the heart of the Ranger is a simple and easy to use control panel. You can switch between ovens and hotplate, raise and lower temperatures with ease. The Rayburn Ranger is easy to install too. It doesn't require a plinth, flue or any annual servicing.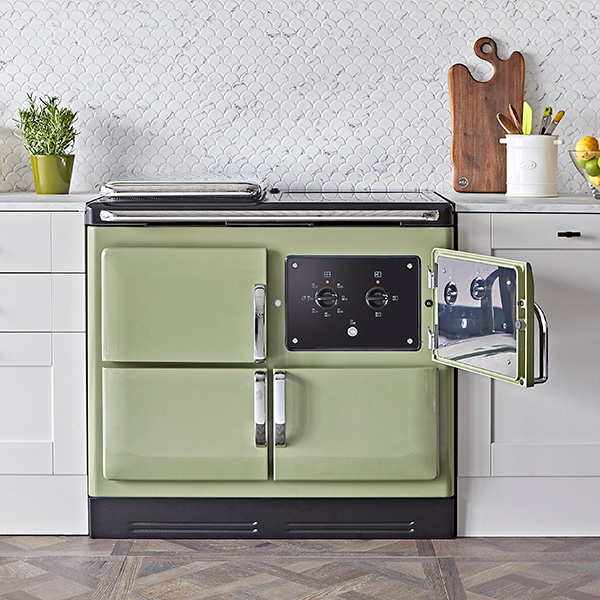 Need to know more?
Call us or visit our showroom to see working models of the Rayburn collection.
Download the Rayburn Brochure here!