Description
Parkray Aspect 6 ECO. A large viewing window with advanced technology.
The Parkray Aspect 6 ECO stove brings a welcoming warmth to your home. Slimline and space-conscious these powerful stoves are perfect for open-plan living. There's a Parkray fire to warm up any space.
The Aspect 6 is part of the contemporary range of stoves from Parkray. Clean lines and simple controls make these stoves a popular choice. The Aspect 6 is ideal for medium to large sized rooms and generates a flexible output of between 4-7.5 KW of heat. This wood burner is a little bigger than the Aspect 5 but has a similar output. This makes it perfect for larger hearth enclosures or as a free standing appliance.
The Parkray Aspect 6 ECO benefits from a large window. This gives an excellent visual enjoyment of the flames. The solid door is easy to open with a cool touch handle. Controlling the appliance is simple too. The Aspect 6 is also available as a compact model (Aspect 5 ECO) which has a slimmer profile.
A Parkray stove achieves very high environmental standards. They produce up to 7 times less smoke than required under the current Eco Design 2022 standards. The wood burning model is Defra approved for smoke control areas.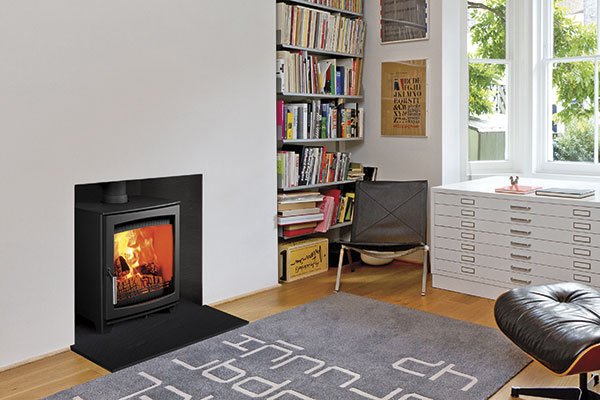 The Parkray Cleanburn Technology (Tripleburn) utilises three streams of air. Primary, secondary and tertiary. This results in excellent air flow to the firebox and improves combustion.
Air
is drawn
over the fuel, across the door and behind the fuel. This means a faster light up and a fuller burn of the fuel. This ensures that the glass is always kept clean – guaranteeing an excellent view of your fire as it burns.
Key Features
Fuel: Wood or Multi-fuel
Output: Nominal 5kW
Energy Rating: A
Construction: Steel Body / Cast Iron Door
Airwash: Yes
Approved for Smoke-Free Zones
Efficiency: 80% (Wood)
Optional Extras
Direct Air Kit
Multifuel Kit
Log Stand
Bench Options
Black Handle (Not Fitted)