Description
Charnwood Skye 5 Multi Fuel Stove.
The Skye 5 represents Charnwood's most efficient wood burning and multi fuel stove to date. This means you will get the very best out of your fuel and in return a comfortable 2-5kW of heat output. The simple and contemporary styling of the Charnwood Skye 5 ensures it will look just as good free standing as it will in a fireplace. The Skye benefits from landscape proportions with an excellent view of the fire.
The Skye is easy to use too. A simple latch opens the door. The output of the stove can be adjusted using one lever.
Efficient burning and optimum control.
The Skye range incorporates Charnwood's Quattroflow® Air Management System. Using a number of air chambers, the single control introduces the right amount of air into just the right places for ultra efficient burning and optimum control. Pull out to increase the burning rate – push in to slow it down. An outside air supply can be channelled directly into the stove through the rear of the Quattroflow® box.
If you like the unique styling of this stove but need more power, the Skye 7 is an excellent alternative.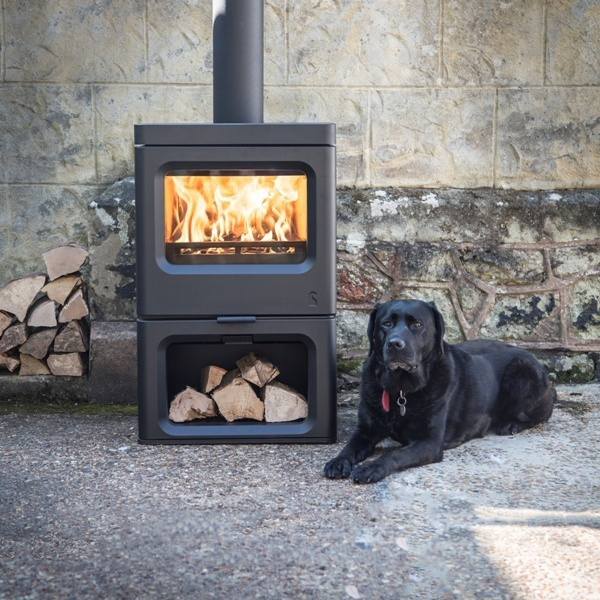 Key Features
Fuel: Multi-fuel and Wood
Output: Nominal 5Kw (range 2-7kW)
Energy Rating: A+
2022 SIA Eco Design Ready
Blu Technology
Construction: Steel Body, Cast Iron Doors
Airwash: Yes
Approved for Smoke-Free Zones: Yes (Wood)
Efficiency: Over 86% (Wood)
Optional Extras
Various Colours
Low or Store Stand