Below is just a small selection of the range cookers we have available – there are a host to choose from in a wide range of styles and configurations. With advice from our experts, we are sure you will find a range cooker that exactly matches your needs and budget.
Please scroll down to see our top-selling range cookers or click here to see our complete range.
Choosing the perfect range cooker for you and your home.
When it comes to Range Cookers, there has never been more choice than there is today. There are models just for cooking, models that will provide hot water or heat your whole house. Fuels include wood, solid fuel, oil, electric, gas or dual fuel, whatever your preference. Once you have made these key decisions, all that remains is styling. Will you go for the traditional country home look or a modern contemporary style? Whatever option you choose, we believe there is something to suit every household, kitchen and lifestyle. View live and working models at our purpose built showroom in Winkleigh, Devon. We welcome visitors from the South West – Cornwall, Devon, Dorset and Somerset as well as further afield and our trained staff will be pleased to talk through which model would suit you best.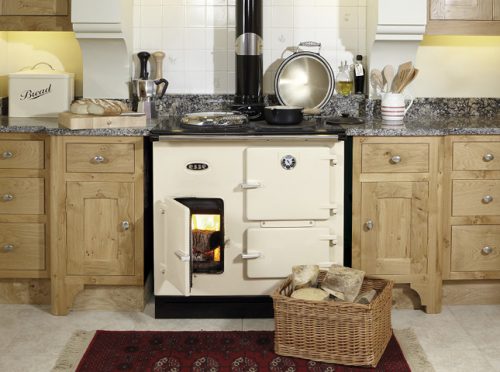 The advantages of cooking on a range cooker.
Range cookers have clear advantages over built-in cooking appliances. Ovens are 20-30% larger, providing a steady, even cooking heat and retaining moisture. They have multiple ovens so different dishes at can be cooked at different temperatures simultaneously. They also provide heat storage, keeping your kitchen cosy all year round. Your range cooker is a lifetime investment and should you move house, you can even take it with you.