Description
Stovax Sheraton 5 Wood Burning and Multi Fuel Stove.
The Stovax Sheraton 5 is built to strict modern specifications. It comes Eco Design ready for 2022 regulations and is DEFRA approval. The generous viewing glass gives a perfect view of the fire which is enhanced by Stovax's Cleanburn and Airwash systems. The aesthetic design is such that this beautiful stove will look equally at home in a modern or traditional setting. The Stovax Sheraton 5 is available as a Multi Fuel stove or dedicated Woodburner.
The Sheraton 5 wood burning and multi-fuel stove features a bevelled doorframe. It also has matching cornicing to the cast iron top and bottom. With timeless aesthetics, this elegant stove has a state-of-the-art, low emission combustion systems. For those looking for a wider and slightly slimmer version, the Sheraton 5 Wide is an excellent choice. It is also available in an Electric version.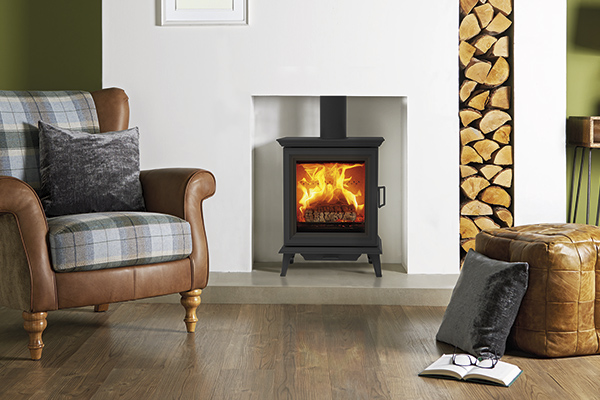 Key Features.
Fuel: Multi-Fuel or Wood Option
Output: Nominal 5Kw
Energy Rating: A (Wood) A+ (MF)
Eco Design 2022 Ready
Construction: Steel Body / Cast Iron Door
Airwash: Yes
Approved for Smoke-Free Zones: Yes
Efficiency: 86%
Optional Extras.
Sheraton 5 Wide Version
Long Legs
External Air Kit
Multi Fuel or Wood