Description
Rayburn Stratus Extra Slim built in electric fires.
The Rayburn Stratus Extra Slim electric fire offers a contemporary look. Available in three sizes, they're easy to install with just a 13 amp supply. No flue or chimney is required. They make a captivating addition to any room.
Each model is supplied with a remote control. This allows you to adjust the flame pattern, the temperature and adjust the colours of your fire. In addition, you can programme your fire to turn on and off.
One of the advantages of the Stratus fire is that they can be fitted into a variety of walls which can be keyed to the glass edge of the appliance. These appliances come with a highly attractive frame too as an alternate finish option.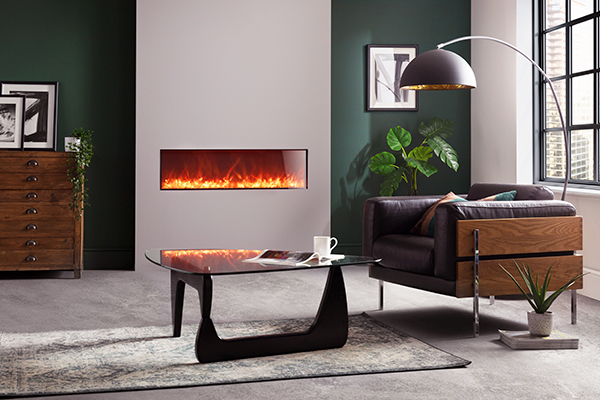 The Rayburn Stratus will add a gentle heat to your living space and are ideal to use in conjunction with your existing central heating system. Rayburn Stratus electric fires have been designed to emulate the restful appeal and cosiness of a real fire. The flickering flames are extremely realistic.
They also offer excellent controllability. Using the remote control, you can change the flame picture instantly. You can easily adjust the flame patterns, colours and the heat output to your room with the touch of a button.
Rayburn Suites for the Stratus.
The Rayburn Stratus Extra Slim is also available as a suite. This beautifully designed suite is designed to fit the extra slim series of Stratus fires to create a chic and stylish centrepiece for your home. With easy installation and the option to colour your suite, you can create a truly unique fireplace.