Description
The Morso 7440 encompasses all the best qualities of modern wood burning stove. Large views of the fire and high efficiency.
Enjoy a 180 degree view of your fire with the Morso 7440. With glass panels on the front and side of the stove, this contemporary wood burner will suit many homes. The Morso 7440 has a modest output of 4.3KW – ideal for the modern highly insulated house. The expansive view of the flames and clean design will blend into a variety of interiors.
The Morso 7440 sits on a low base. This makes it suitable for a hearth setting or as a free standing appliance. A full length stainless steel handle stays cool to the touch. It also features a self locking mechanism. The sides panels also feature the Morso Squirrel Motif. A small but attractive attention to detail.
The 7440 features a unique combustion system. This ensures a higher temperature in the firebox allowing waste gasses to be burnt off.
As part of the 7400 Morso Series, there are several base options to choose from. The 7449 on high pedestal. The 7443 with log store. There's also a wall mounted version – the 7470.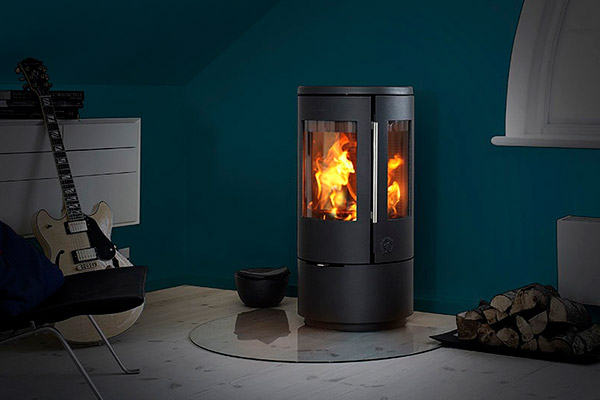 Key Features
Convection Fan
Convection System
Pre-heated combustion air
Ash Can
Airwash system
Tertiary Air
DEFRA Approved
Pedestal and Wall Hung versions available