Description
The elliptical Morso 6148 wood burning stove. Style and efficiency combined.
The Morso 6148 is an elliptical wood burning stove with contemporary syling. A large picture window enables an excellent view of the flames. The 6148 features a unique combustion system. This ensures a higher temperature in the firebox allowing waste gasses to be burnt off.
You can expect excellent fuel economy from the 6148 and a net efficiency of over 80%. Added to this it has very low smoke emissions. It is DEFRA approved.
The Morso 6148 wood burner sits on an elegant pedestal. This raises the body of the stove. The 6148 is ideal as a free-standing stove and looks great in an open plan room.
This wood stove has a 5KW output suited for small to medium sized rooms. It's size and shape will make an attractive centre point to any interior.
The 6148 is also available without a pedestal or with a wood store option. The 6140 and the 6143.
We have a wide selection of Morso stoves in our purpose built showroom in Winkleigh. You can also see a range of Morso appliances in our Hearth & Cook showroom in Exeter.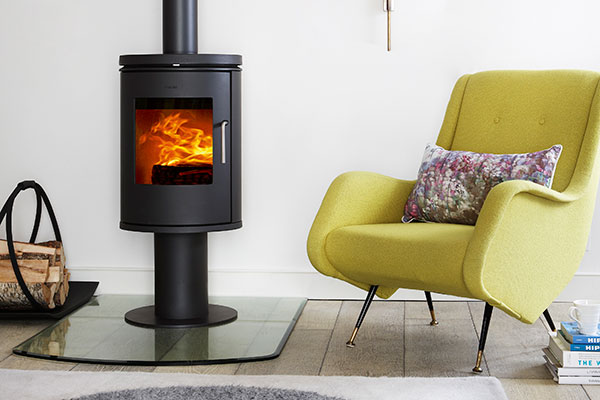 Key Features.
Convection System
Pre-heated combustion air
Pre-heated secondary air supply
Ash Can
Airwash system
Tertiary Air
DEFRA Approved