Description
The Cornufe Albertine range cooker is the perfect way to enter the wonderful world of La Cornue.
The La Cornue Cornufe Albertine is the smallest cooker in the La Cornue Range. It has a single oven with a host of functions. This single, multi-function oven is very generously sized. It has a 110 litre capacity, making it possible to cook very large joints. Added to this, it has a large storage drawer and a choice of five powerful brass gas burners or induction top. 
La Cornue prides itself on its unique styling and quality. The Cornufe is available in a choice of beautiful colours and trim choices which include polished brass, stainless steel and polished copper.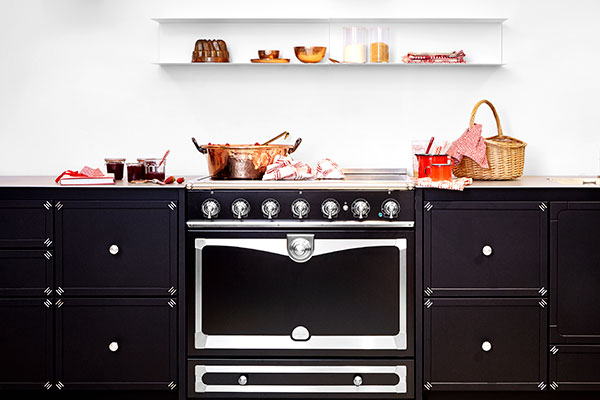 The La Cornue Cornufe Albertine offer a gourmet stove at a more affordable price and the chance to bring La Cornue style and quality to the kitchen and your home. 
The Albertine also has a powerful optional hood. If you like the style of the Cornufe but would like additional ovens, the Cornufe 110 is an excellent alternative.
Key Features
Gas hob (Dual Fuel) or Induction top
Various colour options
Multi-Function Oven
Splashback and hood options
Trim Options
Storage Drawer
Dimensions: 900 W × 650 D × 910 (937 max) H (mm)
Rangemoors and sister company Hearth & Cook are delighted to offer customers access to the La Cornue product range. We appreciate the careful planning and attention to detail that is required for each purchase. That is why we have specially trained staff on hand to take you through the process. If you are thinking of purchasing a La Cornue product, and would like to visit our Exeter showroom, please make an appointment to ensure a fully trained member of staff is available.