Description
Falcon 900 Deluxe. Stylish looks with a high-quality build and durable design.
---
Professional Quality Range Cooker

Dual Fuel or Induction Hobs

Large Multi Function Ovens

Manufactured from high grade stainless Steel

Available in 8 stunning colours
---
The Falcon 900 Deluxe provides the ultimate control for your cooking. This is because they offer large multi function ovens and a choice of powerful gas or sleek induction hobs designed for creative cooks.
Gas hob models have five professional standard burners. They feature a 5kW central burner which will enable high cooking temperatures that are ideal for stir frying and sealing in nutrients and flavour.
Falcon Induction hobs are fast, responsive and incredibly controllable. Added to this, they utilise precise rotary control knobs rather than digital displays found on most electric hobs.
The Falcon 900 Deluxe grill will make grilling a joy. Firstly, the seamless glide action grill rolls out to reveal four height settings. Secondly, the Falcon is equipped with a solid and durable grill tray.
The large multi function ovens are also packed with the latest technology. The seven settings include Defrost, Fan Oven, Fanned Grilling, Fan Assisted Oven, Conventional Oven, Browning Element and Base Heat.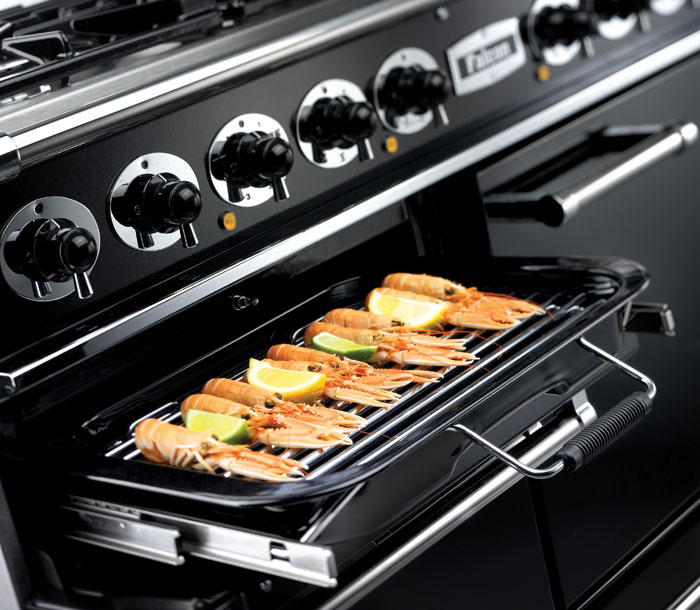 All Falcon ranges are beautifully made using the finest materials. For example, the 1.2mm gauge stainless steel doors adds a satisfying 'clunk' when closing. Added to this, the gas burners are solid brass and in one piece. This makes them easy to clean. Furthermore, the controls are ink moulded and injected onto a chrome plate for a dazzling professional finish.
Falcon range cookers are favoured by many professional chefs and food writers. Cook Schools across the UK use Falcon Range Cookers every day too. TV chef Nick Nairn earned his first Michelin star on a second hand Falcon and has never looked back. Rick Stein also uses Falcon ranges in his seafood school in Padstow.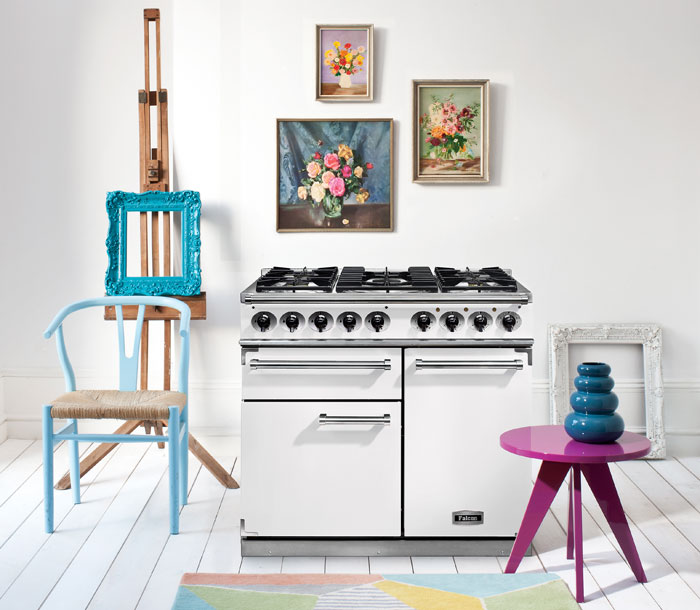 Key Features
Nat Gas, LPG or Induction hob
Electric Ovens
Variable height adjustment*
Stylish rotary controls
Multi function oven with 7 settings
Roll-out grill
Heavy-duty oven shelves
Catalytic liners
Single handed ignition
Fan oven
Dual circuit grill