Description
Charnwood Bay VL Inset Wood Burning Stove.
The Charnwood Bay VL is a contemporary insert stove. It features a large flame picture window and excellent efficiency ratings.
The impressive uninterrupted view of the fire works beautifully with its clean rectangular casing.
The Bay VL has an output range of 2-7KW. For those looking to maximise the space in their living rooms the Charnwood Bay VL is a great choice. You get all the benefits of the warmth and look of a real wood burning stove in a compact package. The enamel frame casing of the Bay comes in eight versatile colours. (Charnwood have their own enamelling company based on the Isle of White). This enamel frame adds a gloss finish and makes the Bay VL a highly attractive and unique inset stove.
The Bay is easy to use too. A simple lever opens the wide door for refuelling. A pull out slider controls the heat output. If you prefer a freestanding version of the Bay, the
Bay BX
is an excellent alternative.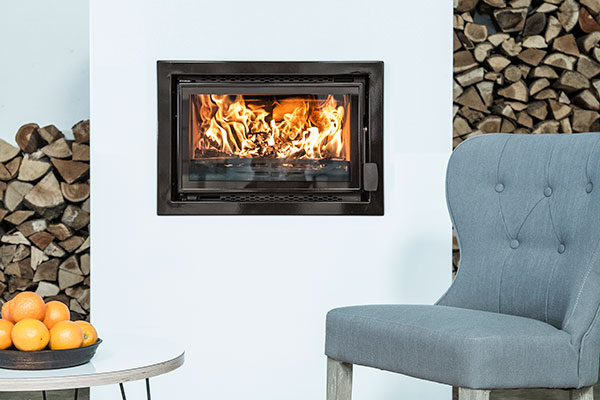 Key Features
Fuel: Wood
Output: Nominal 5Kw
Energy Rating: A+
2022 SIA Eco Design Ready
BLU Technology
Weight: 94.3Kg
Construction: Steel Body, Cast Iron Doors
Airwash: Yes
Approved for Smoke-Free Zones: Yes (Wood)
Efficiency: Over 86% (Wood)
Optional Extras
Various Colours
Free Standing Option