We use Renewables for our own showroom and office heating, so we know how effective and easy to use they can be. From our own experience we have chosen the Renewables that we believe offer the greatest longevity and savings to homeowners and commercial users alike; Biomass and Heat Pumps.
With 40 years experience in the business, as you'd expect we choose the manufacturers that we deal with very carefully. That's why we only offer products from manufacturers that we believe set the gold-standard with proven build quality.
Just as important as the quality of the products is the quality of design and installation. We only work with installation partners who have received direct training and accreditation from the product manufacturers.
Visiting Rangemoors Renewables is a unique experience, as we are the only showroom in the UK to have three fully installed and working Euroheat biomass wood, pellet and wood-chip boilers on display alongside a working Panasonic Heat Pump.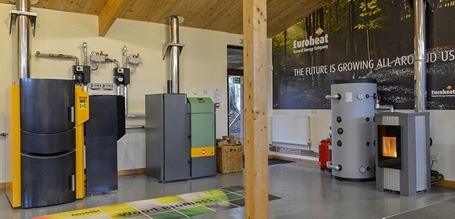 Biomass:
Biomass covers a wide range of wood-based fuels, from logs and wood chip to convenient wood pellets. Biomass is particularly suited to larger or isolated homes, commercial premises and community heating schemes where a number of homeowners work together. You'll see in our showroom that they are remarkably clean and easy to use.
Some of the units we offer come fitted with automated feeding systems to provide you with complete control and the minimum need for intervention. Because quality and longevity are so important, we deal with Euroheat Biomass and are Devon's only Authorised Euroheat Distributor. We offer their full range of Wood Biomass Boilers, HDG Wood Pellet Boilers and HDG Wood Chip Boilers. These are all on display and working in our showroom.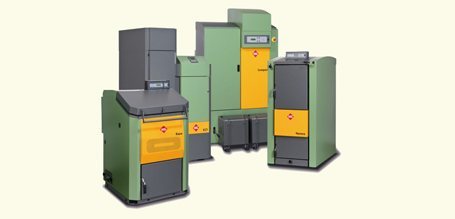 Heat Pumps:
Air source heat pumps are an easy and effective hot water and heating solution to fit into new or existing homes and offices. The pumps are best described as reverse air conditioning systems, drawing warmth from the outside air even on the coldest of days. Our own heat pump kept generating wonderful warmth for us even during the big freeze of Christmas 2010 then temperatures fell below minus 15C!
Once installed they require very little intervention and maintenance, with the refrigeration cycle returns up to 5 times the energy consumed in running them. As they run on electricity, with no combustion process, they are a safe, clean and green option that makes the most of the inexhaustible supply of air around us.
Our Panasonic heat pumps come in numerous specifications to suit different properties, with a large range of efficient tanks for hot water storage which can also be specified with a connection for solar panels. Some can even be controlled whilst you are away or at work from the internet or your smartphone!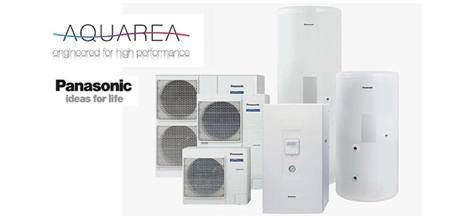 Savings:
Using good quality, high-efficiency Renewables isn't the only way to save on oil or other fuels that you may currently be using. You should also consider whether you have sufficient insulation as part of the process.
Government grants are available for eligible Renewables users. They differ for each Renewable product, but can help with the installation process and by providing significant revenues once they are up and running.