Description
Vlaze Adapt 120 & DeliVita Package.
We are delighted to be able to offer this fantastic Vlaze ADAPT 120 and DeliVita Pizzaiolo package. It's the perfect combination for your outdoor garden kitchen.
The package includes the Adapt 120 cabinet and the DeliVita Pizzaiolo Oven.
The Adapt 120.
The Vlaze Adapt 120 is the perfect cabinet and base unit for your outdoor cooking and entertaining. It's ideal for a host of applications including pool side storage, drinks trolley, food preparation area, pizza oven or grill stand. It can also be paired next to your BBQ grill, creating a wonderful focal point to your outdoor adventures.
Hand built on the Isle of Wight, the Vlaze Adapt 120 is engineered from stainless steel and luxurious vitreous glazes.
The unit can be specified with coasters so it can easily be moved to your preferred location. Legs are also available. It has two doors with plenty of internal storage space.
The Vlaze Adapt 120 also comes in a selection of inspiring colour options. Graphite, Indigo, Ochre, Nori and Splatter. Added to this, you can also specify a stainless steel worktop finish if that suits your preference.
This unit is designed to pair with the other Vlaze Outdoor Cabinets.
Includes an all weather cover.
The DeliVita Pizzaiolo & Accessories.
The Delivita Pizzaiolo is a multi-purpose outdoor oven that takes its inspiration from the traditional Roman oven. It cooks mouth watering pizza's in under two minutes. Added to this you cook a wide variety of foods including flatbreads, roast vegetables, fish, meats and chicken. This wood fired oven will also create a gentle warmth and unique centre point for your Al Fresco entertaining. It fits perfectly on the Adapt 120.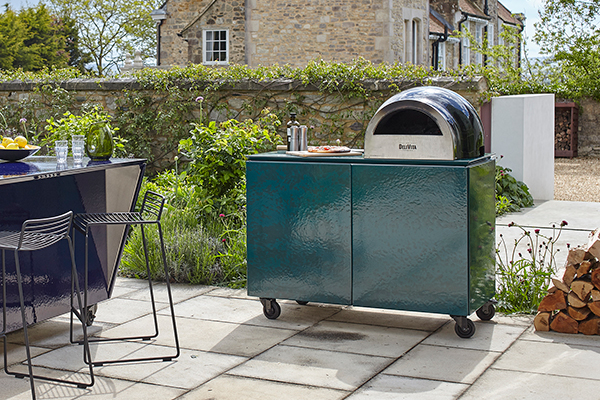 Technical Details. Vlaze 120.
The unit measures 1200mm wide by 700mm deep and 900mm high.
It weighs 90kg fully assembled.
Shipped with instructions and small tool kit for adjustments.
Technical Details. DeliVita Pizzaiolo.
Height: 35cm
Width: 59cm
Depth: 65cm
Weight: 30kg
Heat up time: 25 minutes
Maximum temperature: 550ºC