Description
The Stovax Riva 50 Inset Wood Burning Stove.
The Stovax Riva 50 Inset gives a wonderful view of the radiant, dancing flames.
This inset wood burning and multi-fuel fire enjoys clean, contemporary lines. It fits into a 22" high and wide fireplace opening. As a result it will suit many typical hearths.
The Riva range also offers excellent performance. It is Ecodesign ready. It is also DEFRA approved when fitted with the optional Smoke Control Kit. You can expect a very usable 7KW of power from this compact inset stove. This results in a stove that will heat a small to medium sized room with ease.
Added to this there are two frame options. The three sided frame is ideal if you want the appliance sitting on a hearth. The four sided frame makes it ideal for the 'hole in the wall' look. These frames are available in wide and standard widths.
It's simple to refuel the stove with an easy to use handle which is also discreet and removable. The Stovax Riva 50 also has a stainless steel Ashpan for easy cleaning. A single lever controls the output of the stove. Stovax have created the unique 'Opti-Burn' setting. This provides the best efficiency and visual effect for wood burning.
There is an optional fan-assisted convection circulation kit. This provides a quicker heat delivery to the room when first lit.
If you're looking for a more powerful output, consider the Riva 55 Inset. There are four models in the Riva range of inset stoves. Please call us or visit our showroom to find out more about these options.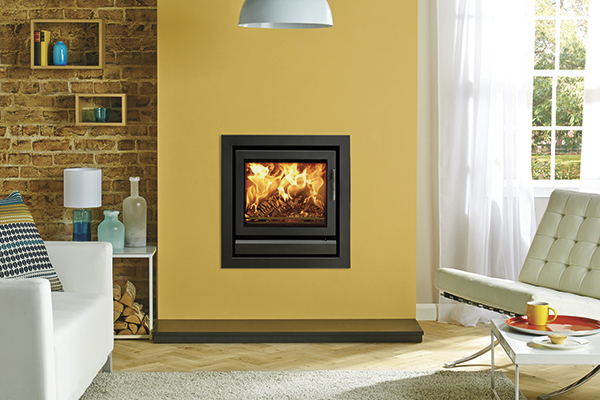 Key Features.
Fuel: Wood Burning and Multi Fuel
Output: Nominal 7Kw
Energy Rating: A+
Eco Design 2022 Ready
Construction: Steel Body / Cast Iron Door
Airwash: Yes
Approved for Smoke-Free Zones: Yes
Efficiency: 83%