Description
Charnwood Cove 2B Boiler Wood Burning and Multi Fuel Stove.
The Charnwood Cove 2B Boiler Stove provides warmth and hot water simultaneously. Charnwood's range of boiler stoves are ideal for those wishing to run a full central heating system. 
This Charnwood Cove 2B Boiler Stove incorporates a thermostatically controlled integral boiler. This boiler is powerful enough to run up to 7 radiators plus domestic hot water. The Charnwood Cove range features a clean burn air wash system. This helps to keep the glass clean. Added to this there is an optional converting grate for using multi-fuels and ash removal.
The benefits of a 'real fired' central heating system as opposed to gas, electric or oil are many. Firstly, the constant heat source reduces condensation. Secoundly, continual air changes are more beneficial to health. 
For those looking for a similar stove without the boiler option, the Charnwood Cove 2 is an excellent alternative.
The Cove stove is available in three sizes and a range of base options. There are also eight Charnwood Colours to choose from. Optional convection panels are also available for each of the stoves. These convect heat into the room and reduce distances to combustibles to 250mm.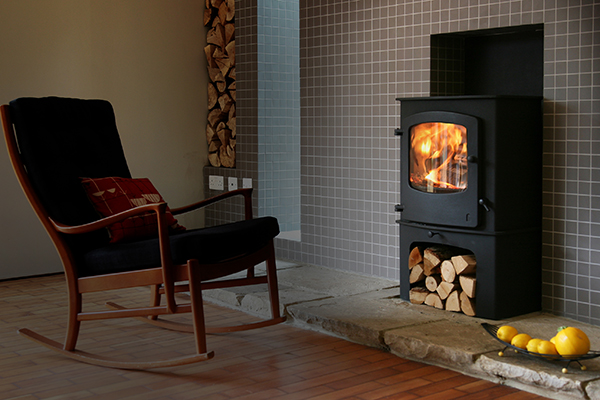 Key Features
Fuel: Multi-fuel
Output to room: Nominal 7.1Kw / Max 8Kw
Output to water: Nominal 9.3Kw
Energy Rating: A
Construction: Steel Body, Cast Iron Doors
Airwash: Yes
Approved for Smoke-Free Zones: No
Efficiency: 76.5%
Max Log Length: 370mm (14.5″)
Optional Extras
Various Colour Options
Vertical Rear Flue Adaptor